INTERIOR PLANTS
Potted Green offers a large range of  hire plants and containers to suit any interior decor. Plants can be used in many indoor situations such as:
Desktop planters
Floor standing planters or,
Troughs to act as a privacy barrier or divider.
We also provide a wide variety of container top dressings such as pebbles, bark, wood chip and fibre to name a few. Check out or gallery to see some examples of the types of plants and planters we use.
So if you are looking to hire plants for your premises contact us today to discuss the options and we can provide you with an obligation free quote.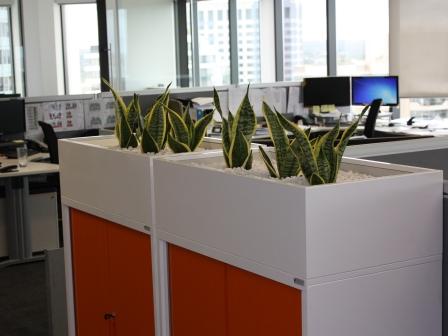 ENHANCED ENVIRONMENTS
The addition of plants to any space is a very cost effective means to add character and appeal. As soon as the plants arrive you will notice the visual impact and over time the health benefits of bringing the outdoors in.
We regularly receive positive comments from our clients about the changes plants bring to their premises.
Check out our Benefits of plants page to see how our hire plants can improve your work place.
"From when we first engaged with Brendon from Potted Green he has been an amazing help with ensuring our office is fitted out with amazing plants to suit our needs and requirements! We would definitely recommend Potted Green to any business looking to liven up their office!"
"Potted Green has designed and maintained the greenery for all three Zushi restaurants.
In our latest project at Barangaroo, Brendon integrated plants into our joinery to create the perfect hedge to frame our restaurant.
The result is zen-like simple, green, low maintenance and we couldn't be happier."